Handcrafted in small batches, Body Frost Sugar Scrubs is a celebration for your skin. Inspired by the beauty of the changing seasons and the need to nourish and care for our skin, Body Frost was born. Formulated with organic ingredients and pure essential oils our scrubs are gentle enough for everyday use leaving skin velvety soft. Made locally and responsibly in Kennebunkport Maine using 100% recyclable glass containers.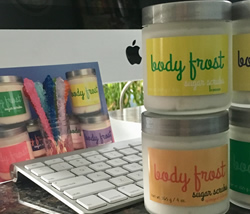 Mix and Match
Select from over 10 delicious fragrances and determine which are your favorites! You pick 4 (4oz) scrubs for one great price.
4 (4 oz.) Jars/$40.00
Choose Your Scrubs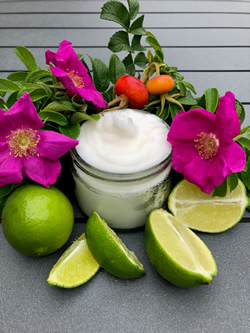 Beach Rose
A sun and sea infused delicate rose fragrance matched with a pleasing citrus crispness. This curated blend of lime, palmarosa, bergamot, a whisper of light patchouli and rose bring about this lovely fragrance and does not disappoint.
8 oz/$22
4 oz/$14
Mother's Beach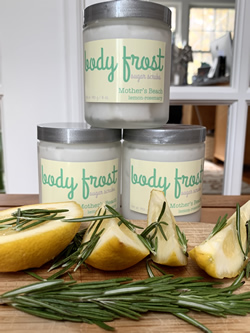 The essential oils of lemon combines with the distinctive aroma of rosemary in this beautifully scented scrub. Lemon may help lift your mood and make you feel more alert while rosemary may help ease stress and reduce joint inflammation. *it is generally advised to avoid rosemary if you are pregnant*
8 oz/$22
4 oz/$14
Eucalyptus and Green Tea
The clearing, clean and fresh fragrance of eucalyptus matched with green tea undertones and hints of luscious grapefruit, lime and soft lemon enhance this beautiful fragrance. A year round scrub that provides a calming vibe with every application.
8 oz/$22
4 oz/$14
Espresso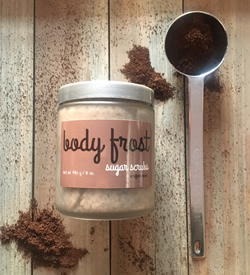 A perfect start to your day - this magical blend is our version of a chemistry miracle in a jar.... the full flavor of organic coconut oil mixed with finely ground balanced and buttery coffee beans tantalizes your olfactory system while leaving your skin soft and smooth.
8 oz/$22
4 oz/$14
Peppermint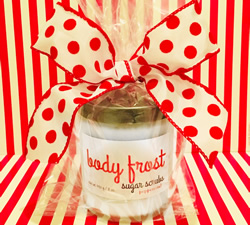 A refreshing and timeless fragrance that is generally associated with winter months but may definitely be enjoyed year round. Intended use for your entire body with special attention to the feet. This strong yet sweet fragrance touched by menthol undertones provides your skin with a wonderful cooling sensation.
8 oz/$22
4 oz/$14
Lemongrass Pine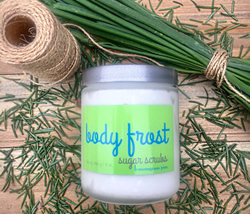 A light fresh lemony fragrance with a hint of earthy pine forest undertones. This scent compliments the change of seasons and provides an unmatched and uplifting option to traditional fragrances.
8 oz/$22
4 oz/$14
Ginger Citrus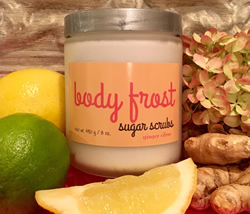 A delicious blend of organic ginger splashed with a mix of citrus essential oils and a hint of litsea cubeba. This fragrance is both invigorating and rejuvenating but also remarkably soothing making it the perfect blend for your skin.
8 oz/$22
4 oz/$14
Lemon Lavender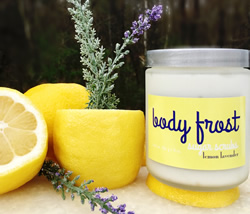 Experience the energy lifting properties of lemon while enjoying the calm of lavender at the same time in this delicious scrub.
8 oz/$22
4 oz/$14
Raw Coconut
Kiss your skin with the rich, creamy and tropical goodness of this fragrance. The sweetness of organic essential coconut oil blends with 100% organic and virgin coconut oil leaving your skin gently exfoliated, soft and moisturized the moment you rinse.
8 oz/$22
4 oz/$14
White Pine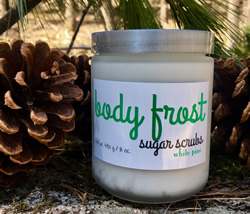 The unmistakable scent of a fresh cut pine bough soothes your skin and awakens your senses. This scrub has become a fast favorite among the outdoor enthusiasts and gentlemen alike.
8 oz/$22
4 oz/$14
Lime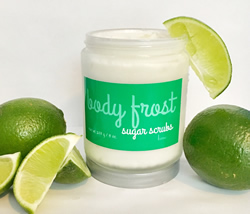 One of our most popular scents, the orchard-fresh tarty goodness of lime invites your senses to an aroma palooza with every application.
8 oz/$22
4 oz/$14